Meet Jaudon Sunde Permanent Cosmetics, Microblading, Scar Camouflage Expert Specialist in Middleburg Heights, OH
Meet our provider at Jaudon Sunde Permanent Cosmetics, Microblading, Scar Camouflage Expert! Jaudon Sunde specializes in permanent cosmetics, microblading and scar camouflage. For more information Call us today! We are located at 18820 E. Bagley Rd.#1 Middleburg Heights, Ohio 44130.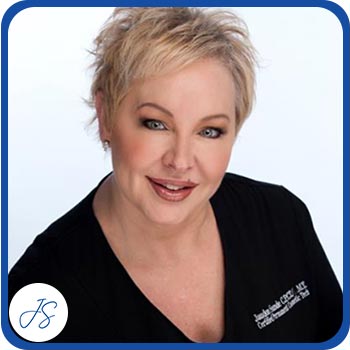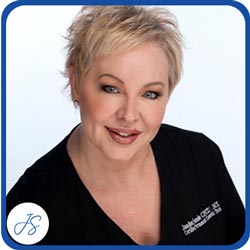 Jaudon Sunde – C.P.C.T. – L.M.T. – P.L.
Certified Permanent Cosmetics Technician/Instructor
Licensed Master Technician – Paramedical Scar Camouflage
Master Makeup Artist – Seminar Speaker
About Jaudon Sunde
Jaudon Sunde-C.P.C.T has served as the official Medical Consultant for safety statues concerning Permanent Cosmetics, Microblading,and Medical Scar Camouflage on The Ohio Department of Health Board from 2012 to current. Jaudon is a dynamic, inspiring and very versatile woman with over 25 years professional experience in the "Beauty Industry". She has worked with some of the industries foremost companies, Escada, Boucheron, Carolina Herra and Tiffany & Co. as well as Christian Dior and Yves Saint Laurent. Jaudon held the position as National Seminar Director and Corporate Trainer for Christi Harris, a National Cosmetics company in Dallas, Texas and has also been part of the instructional programs with John Casablanca, Barbizon, and John Robert Power's Modeling Schools. Her makeovers have been featured on TV's Inside Edition; she's been interviewed in Inform Magazine and she has worked with TV's Good Morning Texas and "D" Magazine. Jaudon's permanent cosmetic work has been seen on WKYC, WEWS, WJW, WBNX television and featured in Mimi's, Cleveland Women's Journal and Cleveland Magazines.
Uniqueness, true God Given talent and insightful industry/product knowledge have created confidence within Jaudon's clients and created a platform to affect and influence many well known women such as Real Estate Mogul and Author Barbara Corcoran , Barbara Dow/Dow Chemical Corporation, Serita Jakes/Woman to Woman Ministries and wife of Bishop T.D. Jakes, as well as the late Randi J. Paltrow, Director of National Relations with Patient Services Inc. and Aunt of actress Gwyneth Paltrow.
Jaudon has added her success in Permanent Cosmetics to an already impressive list of accomplishments. Jaudon is certified as a Master Technician by the American Institute of Interdermal Cosmetics in Arlington, Texas. In 2003 Jaudon was invited to teach Professional Makeup Theory at the International Interdermal Conference in Dallas, Texas. She was invited back to the same conference in 2007 as a Keynote Speaker. In 2008, she was asked to serve on the National Advisory Board for Medical Consultant for the Ohio Department of Health to advise on safe practices In the Permanent Cosmetics Industry in Ohio., whose mission is to advance safe practice in the Interdermal industry. Jaudon is currently working to establish industry protocols here in Ohio. In 2009 Jaudon addressed the Ohio Board of Health Inspector's at the (OHEA) Ohio Environmental Association Health Conference where Jaudon spoke on safety standards in the Permanent Cosmetic Industry. In 2010 Jaudon was invited to speak on Permanent Cosmetics and Paramedical procedures at the convention for the American Society of Plastic Surgeon Nurses and the Cleveland Clinic in conjunction with the Ohio Valley Society of Plastic Surgeons. Jaudon also has had the privilege of working with several of the world's most renowned Plastic Surgeons, Dr. Ramsey J Choucair as well as Dr. Sam Hamra, both frequent guests on the Oprah Winfrey show. She currently works with Dr. Lydia Parker and Dr. Lisa Meek of The Parker Skin & Aesthetic Clinic in Beachwood, Ohio. Jaudon also handles work for Dr. Michael Wojtanowski, F.A.C.S.- Ohio Clinic for Aesthetic and Plastic Surgery in Westlake, Ohio as well as Dr. Raymond Seballos of the Docere' Medical and Aesthetic Center in Strongsville, Ohio and Dr. Tricia N. Hedrick NEOSKIN Clinic Hudson, Ohio. Jaudon's hearts desire is to use Permanent Cosmetics to help women with medical conditions that hinder their self esteem and limit their ability to apply makeup, such as vision impairment, alopecia, lupus, cancer and arthritis. Jaudon enjoys speaking to groups about Permanent Cosmetics and is passionate about encouraging women to see their individual potential and equipping them to bring out the best in themselves.
Speaking Engagements by Jaudon on Permanent Cosmetics
Jaudon Sunde is a nationally recognized interdermal technician and public speaker and is available to share the many wonderful benefits of permanent makeup and scar camouflage procedures to groups of 20 or more.
Our clinic provides permanent cosmetics, scar camouflage, microblading, medical makeup, and a variety of other cosmetic services. If you live in Middleburg Heights OH area or any of the surrounding areas, then we invite you to our clinic!
Jaudon Sunde Permanent Cosmetics – Microblading + Scar Camouflage Expert was created with customers in mind. Our hope is to educate and empower you so you can have a good understanding of how permanent cosmetics and our other services work, and our goal is to provide you with quality services to help you achieve your aesthetic goals!
Who is Jaudon Sunde?
Jaudon Sunde (C.P.C.T. – L.M.T. – P.L.) is our Master paramedical technician and trainer, as well as our permanent cosmetics and microblading expert here at our clinic. She is also a board member of Medical Consultant for the Ohio Department of Health to advise on safe practices In the Permanent Cosmetics Industry in Ohio, and is dedicated to providing professional and safe cosmetic procedures. With over 25 years of professional experience in the beauty industry, she is fully capable of fulfilling your cosmetic needs, so you can be sure you'll be in good hands. Jaudon would be delighted to speak with you in a consultation.
How do I choose the right permanent cosmetics technician?
You'll absolutely want a professional with training and experience, and who isn't a new student. Permanent cosmetics is a delicate and deliberate practice, so you'll want a true professional. You'll also want to consider their certification and license, and what kind of insurance they provide. You might also want to see photos of their work, as well as any patient reviews available.
Mission Statement
I, Jaudon Sunde, am an individual of integrity and credibility and desire to conduct business in an honest and forthright manner in strict compliance with all National and Regional applicable laws, rules and regulations.
I endeavor to be correctly perceived as a competent and highly ethical woman, who through the continuous advancement of education and superior techniques. I am dedicated to using the platform of Makeup Artistry and Permanent Cosmetics to teach and encourage clients to discover their full God-given potential and destiny and to help bring about complete healing and wholeness, Body, Soul and Spirit.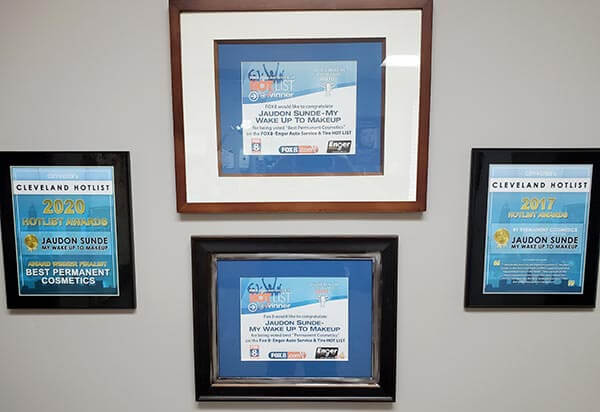 Specality Training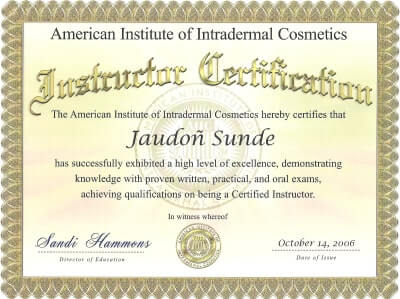 Jaudon's Board Certifications