Microblading Treatment Q&A
Jaudon Sunde Specializes in eyebrow microblading sometimes called the hair stroke method technique for natural looking brows. Visit Jaudon Sunde permanent makeup clinic and get your skin treated.

Jaudon Sunde

is an experienced permanent makeup technician with 25 years of experience in the field. She has worked with some of the industry's foremost companies,

Escada

,

Boucheron

, Carolina Herra, and Tiffany & Co. as well as Christian Dior and Yves Saint Laurent. For more information,

contact us

or schedule an

appointment online

. We are conveniently located at

18820 E. Bagley Rd.#1 Middleburg Heights, Ohio 44130

.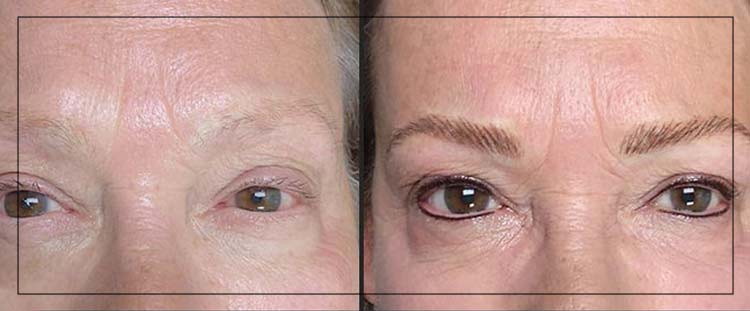 Table of Contents:
What is microblading?
How long will it last?
Who is microblading for?
Is microblading painful?
What is the difference between classic permanent brows and microblading?
Should I get classic permanent brow procedure or microblading done?
What is microblading?


Treatment time 1.5 -2 hrs.

In some cases, a deposit may be required 

Appointments that are canceled without a 24-hour notice will be subject to a $50 service charge.

Microblading is performed using a handheld tool designed specifically for this service.

The perfect implanting of the pigment is between the Epidermal and the Upper dermal level of the skin about the depth of a dime in the skin. The hair strokes that are created heal the size of real human hair. Creating the look of a very natural fuller and more correctly shaped and balanced brow.

The handheld pigmentation process is not a new technology, it is the oldest form of tattoo and permanent makeup that exists. 
However, the tool that is designed for this service and the pigments that are designed for micro blading are considered the newest trend in brow services in the permanent cosmetic industry. Most tools are very safe because they are one-time-use disposable. The pigments that are used in microblading are different from pigments that are used in classic permanent makeup they are formulated thicker and more pigment-loaded. Not all pigment companies are the same. The pigments that my office uses are medically safe for X-RAY and MR I's. (NOT ALL PIGMENTS are.)

The final results can vary based on the skin types lifestyle of clients and environmental sun exposure.
How long will it last?


The effects of microblading may be 18 months to 2yrs.

OUR CLIENTS RECEIVE 50% off of a total RETOUCH as long as they DO NOT GO PAST 2 YEARS. (FOR REPEAT CLIENTS ONLY)
Who is microblading for?


• Clients with sparse brows
• Clients who have over tweezed
• Clients with alopecia
• Clients who have gone through chemotherapy
• Clients who have gone through menopause
• Clients who have thin brows from anesthesia
• Clients who live very busy lives and travel
• Clients who are very athletic
• Clients with hyper hydrous (sweating)
• Clients that just do not want to do their brows every morning.
Is microblading painful?


The process of Microblading when performed in a medical setting is very safe with little or NO downtime.

Our office only uses medical-grade numbing anesthetics. These topicals can only be used under the direction of a physician and work very effectively to control bleeding swelling and pain.

This also makes it possible for us to work on clients who may be on blood thinners. The less bleeding and swelling a client has the more they will take in the pigment and not push it back out from the bleeding or the swelling called edema. The healing time is about 50% faster.

Before Any Permanent Cosmetic Service Discontinue or Follow the Instructions Listed Below:

• NSAIDS – 2 WEEKS BEFORE
• Fish oil and omegas – 2 WEEKS BEFORE
• Adult beverages with Alcohol – 2 DAYS BEFORE
• No Laser treatments, Chemical peels – 1 MONTH BEFORE SERVICE
• Waxing of eyebrows – 1 WEEK BEFORE
• BOTOX – 2 TO 3 WEEKS BEFORE
• Skin must be healthy non irritated with no sunburn.
• NO RETINOID – 30 DAYS BEFORE, it may cause more sensitivity and more bleeding which can affect the final result.

After Your Microblading Appointment:

You may have very minimal swelling due to the medical grade numbing cream which controls bleeding swelling and pain. Some skin types do swell a little more than others but tend to clear up quickly.

Everyone's skin heals differently. The brows may appear to be a little uneven at first if there is any swelling. This clears up very quickly in most cases. They may also be a little red and a little itchy during the healing process. They may also appear to be a little darker than usual. This is very similar to when your Beautician color's your hair, and it oxidizes and gets darker before they rinse it. This is called pigment oxidation; they rinse the color out of your hair and your hair color is normal. This is very similar to the action of depositing pigment into the skin with Permanent Cosmetics and Microblading. The skin is still open right after performing the service, oxygen is getting to the color as the skin closes in traps the color and oxygen is no longer hitting it the pigment lightens. This is why clients are required to book a follow-up appointment. To add the pigment back that is needed.

This usually happens within the first 30 days after microblading. Also, 4 days to 5 days into the healing process the upper layers of your skin will flak due to the actuation of implanting the pigment into the skin. Do not pick our pull the flaking skin off as it will possibly affect the result. Let it come off naturally on its own. After the skin flakes off the brows may look too light and will darken back up a little after 2 to 3 weeks. This does vary from client to client.

Your Follow Up Appointment:

This appointment will be scheduled before you leave the office, and is included in the price of your procedure if done within the 4-12 weeks. Your follow-up will be done 4-12 weeks after healing, and cannot be moved up. Your brows will need to heal from the inside out completely.

Note the Following Below:

• Darker skin types will not show hair strokes as defined as lighters skin types.
• They may appear more powder like.
• Smoking my cause pigment to fade prematurely.
• When you leave our office the hair strokes are intact. How each client's body heals is out of the control of the technician.
• Healing is 100% up to each person's own body. Even when following all the instructions.
• KEEP ALL WATER OFF BROWS – 7 DAYS.
• USE OINTMENT- 1 TIME a day for 7 days (after care packet supplied) With written instructions.
• Your beautiful brows are an investment in yourself, they will need to be protected for them to last and be beautiful.
• NEVER use Retinoids, chemical peels directly on pigment.
• NEVER use Salicylic or Glycolic Acid, directly on pigment as well as skin lightening products and bleaching creams. These products will affect the pigment and it will fade your beautiful brows prematurely. Use them but simply keep it off of your brows.
• No Tanning beds, without covering your eyebrows preferably your entire face with a black tower.
• Use a physical sunblock stick (chap stick 45-SPF) for protecting pigment. And reapply every 80 minutes. No sunblock for works after 80 minutes. And wear a sun visor to protect your investment.
• The eyebrows will need to be refresh and touched up in the future and will need to be booked every 12 to 18 months. Our clients receive a 50% discount off of the retail price if you do not go past 2 years for a touch up.
What is the difference between classic permanent brows and microblading?


Classic Permanent Cosmetic Eyebrows are very beautiful. The difference between micro blading brows and classic service done by Jaudon Sunde, Classic Permanent Brows are done using a digital computer with electrical power pushing the needles to deliver the pigments into the skin. Microblading is performed with a handheld device with nano-size needles that make up a tiny blade. Classic Permanent Brow needles are micro in size, making each hair stroke a little fatter. The final result looks beautiful, but a little more like conventional makeup. Microblading uses a handheld device with nano-sized needles so the hairs are more lifelike and look more realistic.
Should I get classic permanent brow procedure or microblading done?


For those of you who have been considering getting your eyebrows done either with Classic Permanent Brow procedure or Micro-blading, the process for measuring and numbing is the same for both. The difference between the two services is based on personal style and preference.

The picture below is an example of a handheld method called Micro-blading and looks very much like real hair. Classic Permanent Cosmetic Brows are performed using a digital computer with equally beautiful results, however, they look a little more like conventional makeup.
Each client has their personal favorite and both styles of brows take the same amount of time to do. The aftercare and healing for Classic Brows take a little longer to heal than Micro-blading. We use such great medical grade numbing, which helps make the procedure very comfortable no matter what choice you have made.

No Matter What Service You Choose the Results Are Beautiful. Call us or request an appointment online. We are located at 18820 E. Bagley Rd.#1 Middleburg Heights, OH 44130. We serve clients from Cleveland OH, Middleburg Heights OH, Strongsville OH, Parma OH, Lakewood OH, Brooklyn OH, Akron OH, Sandusky OH, Mansfield OH, and Maple Heights OH.