Scar Camouflage Pigmentation Questions and Answers
Jaudon Sunde specializes in scar camouflage pigmentation in Cleveland OH – Middleburg Heights, OH. Cover up your scars by reducing their appearance with our pigmentation techniques.

Call us

for more information or

request an appointment online!

We are located at

Dolce Medical Center 18820 E. Bagley Rd.#1 Middleburg Heights, Ohio 44130

.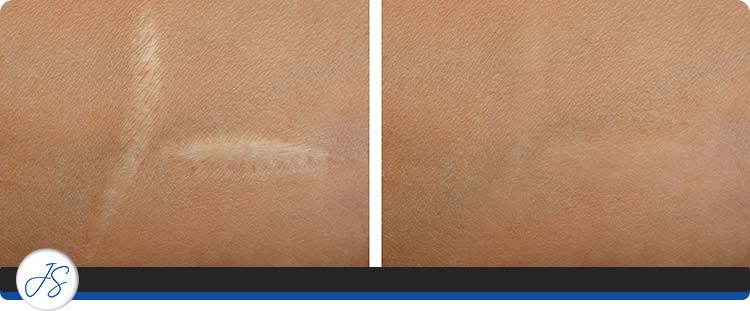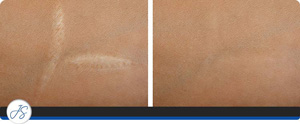 Although scars are permanent, their appearance doesn't have to be. There are techniques that can hide scarring, like scar camouflage which works quite well for many patients. If you have any scarring you'd like covered up, then this technique could be perfect for you. Get in touch with Jaudon Sunde at our clinic to learn more about this technique and how you can get scar camouflage in Middleburg Heights, OH.
What is scar camouflage?
Scar camouflage is a medical Pigmentation and micropigmentation technique that helps to cover up the appearance of scars. The process deposits colored pigment into the upper layer of the skin, which can recolor scars to closely match the patient's natural skin tone. This reduces their appearance drastically, providing the patient with natural looking skin!
Scar camouflage can even be used in areas where hair grows, like the brow. The procedure can mimic the natural look of hair in the area. It can also mimic the hair on a patient's scalp, so scar camouflage can be used for scars on the scalp too. Regardless of where the scarring is located, scar camouflage can help.
The procedure itself is quite easy for the patient. Our professional, Jaudon Sunde, is a Licensed Master Technician or Paramedical Scar Camouflage, and is more than qualified to perform the procedure. She will begin by numbing the area, then she will apply medically safe XRAY and MRI safe pigments to the area. After a few weeks, the pigmentation will fade in color to match the natural color of your skin, then your scar will be barely noticeable!
Can scars ever go away?
Scars are permanent, but they can fade a bit in appearance. However, they will never go away completely. This is okay, though, because scar camouflage can reduce their appearance dramatically, sometimes to the point where they're barely visible.
There are other techniques that can help with scarring, like dry needling. This technique can help to reduce the amount of scar tissue that forms, or even break down scars to reduce their appearance.
At our clinic, we can provide both scar camouflage and dry needling as well as many other medical techniques for treating skin issues.
How long does medical Pigmentation last?
Generally, medical Pigmentation techniques like scar camouflage will last 3 to 5 years. After that, the patient simply receives another treatment! With long-term care, your scarring will be unnoticeable for as long as you need it to be. Jaudon Sunde and our team of professionals will be here for you whenever you need us.
Who are the best candidates for a scar camouflage procedure?
The best candidates tend to be those looking for an easy but effective solution to scarring. Also, any scarring should be more than 6 months old. For some patients, there can be a slight risk of allergic reaction to red pigment, so we recommend the patient gets a simple patch test done 4 weeks before having a procedure.
The first step is to book a simple consultation with Jaudon here at our clinic. We'll discuss your needs, objectives, and hopes with you, then we'll discuss your options, including scar camouflage treatment!
Where can I get scar camouflage Pigmentation in Middleburg Heights, OH?
Come to see Jaudon Sunde here at our medical clinic in Middleburg Heights! You'll find us at Suite #1 – 18820 E. Bagley Road Middleburg Heights, OH 44130. We're open for patients Tuesday through Saturday, 9 am to 5 pm. To book a consultation with us, call us at (216) 270-7444 or book with us online!
We look forward to your visit with us, and we're sure we can help you with your cosmetic concerns here at our Middleburg Heights clinic. We serve clients from Cleveland OH (Middleburg Heights), Strongsville OH, Parma OH, Lakewood OH, Brooklyn OH, and Maple Heights OH.