Scar Camouflage Specialist Questions and Answers
If you are looking to camouflage any scars, stretch marks or vitiligo on your skin, then our Scar Camouflage treatment at Jaudon Sunde Permanent Cosmetics may be the treatment option for you! Call us today or book your consultation. We are located at Dolce Medical Center 18820 E. Bagley Rd.#1 Middleburg Heights, OH 44130.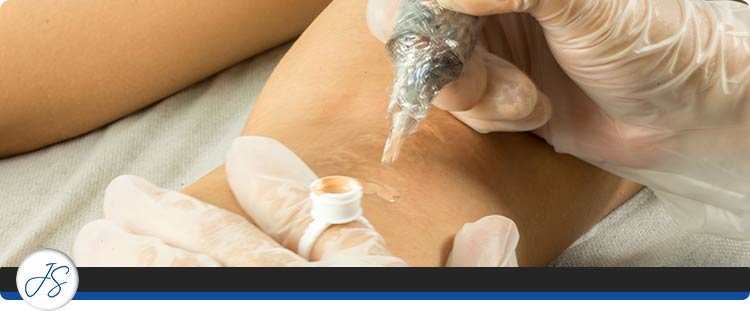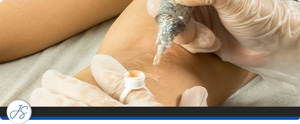 How long does scar camouflage last?
Many deal with scars, stretch marks and even vitiligo, these can be great conversation starters or even stories to tell, but for others these marks leave reminders that can be upsetting or embarrassing and sometimes life changing.
This is why so many look into camouflaging their scars, stretch marks or vitiligo, whether you want to follow through with a scar camouflage treatment or not, Jaudon Sunde is here for you.
Skin changes like scars, stretch marks or vitiligo although distinctly different, they do not go away on their own. While scars and stretch marks may fade or even change in color, texture or shape overtime, they do not completely go away.
Our scar camouflage treatment is expected to be permanent, there may be slight fading over time as the pigments can be affected by sun exposure and cellular turnover. Scar camouflage can last for the rest of your life, some individuals may need updated treatments over the years if you start noticing fading of the scar camouflage treatment or if you need another treatment on a new skin change.
What is the procedure like for scar camouflage?
Our scar camouflage treatment is the process of camouflaging your scars, stretch marks or vitiligo by using a variety of flesh tone pigments and a needle to camouflage your skin changes. This process can help camouflage any of your skin area that may be missing pigment or color due to scars, hair loss, stretch marks, or vitiligo by recoloring the area of skin. Many use it to successfully mask and reduce the appearance of their scars, stretch marks, and vitiligo.
Our medical pigmentation and micropigmentation treatment helps to cover up your skin change appearances. We can apply a numbing cream to the treatment area before your appointment, once the area is numb we can start to process deposits of colored pigment into the upper layer of the skin, which recolors the skin to closely match your natural skin tone. This helps to reduce the appearance drastically, providing natural and beautiful looking skin.
What results should I expect from scar camouflage?
While your scar, stretch marks or vitiligo will not go away forever, our scar camouflage treatment offers some of the top-rated treatments to visibly reduce the appearance of your skin marks.
If you are dealing with any of the below, you are a great candidate for Jaudon Sunde's scar camouflage treatment:
Healed, no longer pink or changing color scars
Scar has to be healed, and offer a stable color.
Smooth and relatively flat
Our scar camouflage treatment cannot disguise or correct any extreme changes in your skins texture.
Lighter to medium-colored dark edges of your skins scar, stretch marks or vitiligo
It is possible if your skin mark is darker, the scar camouflage treatment can cause hyper-pigmentation and even create wider or darker borders. This is why a consultation appointment with Jaudon Sunde is so important before going ahead with your scar camouflage treatment.
Realistic expectations of what scar camouflage can offer
Scar camouflage treatment does not completely restore your skin to the way it may have looked previously before your scar, stretch mark or vitiligo. However, our treatment can improve the appearance of it.
Not a cure – may not be a one-time treatment option either
Scar camouflage is normally preformed on damage or altered skin, and the outcome cannot be predicted ahead of time. You may have to get multiple sessions depending on the size, how dark the area is and other underlying conditions.
Do I need touch ups with scar camouflage?
Overtime, your scar camouflage treated area will begin to fade, and a touch up will be needed to maintain the appearance of your scar camouflaged area. It is important to remember that results from our scar camouflage treatment are not immediate, it can take a few weeks for your treatment to fully heal.
For an appointment or more information about scar camouflage at Jaudon Sunde Permanent Cosmetics, we would love to hear from you! Please feel welcome to call us or schedule an appointment. Jaudon Sunde Permanent Cosmetics is located in the Dolce Medical Center, which you can find at 18820 E. Bagley Rd, Suite 1, in Middleburg Heights, Ohio. We serve clients from Middleburg Heights OH, Strongsville OH, Parma OH, Lakewood OH, Cleveland OH, Brooklyn OH, and Maple Heights OH.