Finding Microblading Specialist in Middleburg Heights Cleveland, OH
Microblading is a process that should be done by a specialist with skills and experience. Jaudon Sunde Permanent Makeup Clinic is a place where you get the most skilled and experienced permanent makeup specialist. The founder and owner,

Jaudon Sunde (C.P.C.T. – L.M.T. – P.L.)

, is a master technician certified by the 

American Institute of Intradermal Cosmetics in Arlington

. She was also invited to speak on Permanent Cosmetics and Paramedical procedures at the convention for the American Society of Plastic Surgeon Nurses and the Cleveland Clinic in conjunction with the 

Ohio Valley Society of Plastic Surgeons

. Get fuller eyebrows today with microblading!

Contact us

or

request an appointment online

. We are located at

18820 E. Bagley Rd.#1 Middleburg Heights, OH 44130

.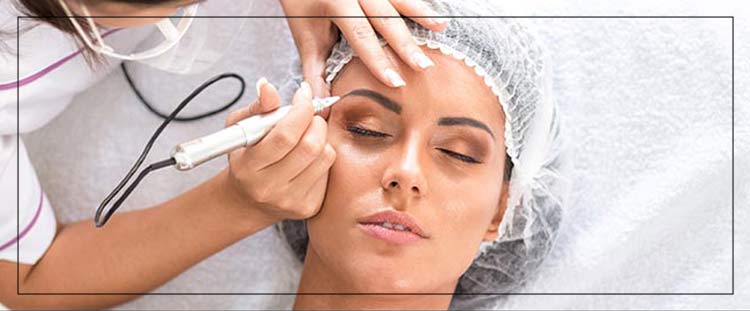 Table of Contents:
What is brow microblading?
Is microblading a tattoo?
Why would you microblade your eyebrows?
Why should you get microblading?
What is brow microblading?

Using microblading, you can make thin eyebrow areas look fuller by filling in thin areas. The coloring from microblading may last up to 18 months to 2 years, unlike a traditional tattoo. The reason for this is that microblading uses different tools and less pigment. Color pigments look like real hairs when applied by a microblade tool. In order to maintain the desired look, touch-ups may be required over time. The result of microblading is natural-looking and defined eyebrows.

A handheld tool designed specifically for microblading is used in the procedure. The pigment is implanted between the epidermal and the upper dermal level of the skin. Hair strokes are created and heal the same size as natural human hair. This process creates a natural fuller, balanced, and shaped brow.
Is microblading a tattoo?

Microblading is similar to a tattoo and is considered a cosmetic tattoo, but it differs from an eyebrow tattoo in several significant ways.

In microblading, each line is drawn by hand whereas, with eyebrow tattooing, the lines are drawn by a machine. When performed by a skilled artist, microblading features very fine lines that don't bleed out with time. When performed with a machine, eyebrow tattooing poses greater risks to the skin. While microblading is long-lasting it is not permanent like a tattoo and will last up to 18 months to 2 years.

Microblading better maintains colors as it doesn't use traditional tattoo ink. The ink used in microblading retains its hue over time. Colors may get lighter over time following a microblading procedure, but they will not change the hue. Microblading produces a much more natural appearance than traditional tattoos and its difference from natural eyebrows is undetectable without a close examination. Many clients who undergo microblading report minimal or no pain, whereas tattoos can be fairly painful.
Why would you microblade your eyebrows?

There are various benefits to undergoing a microblading procedure. Individuals with sparse eyebrows will notice significant benefits including fuller and more defined brows and an enhanced appearance. Sparse eyebrows may be the result of conditions such as alopecia. Microblading can also be an excellent option for clients whose brows have thinned following chemotherapy, menopause, or anesthesia.

Individuals who live busy lives be they occupied with work, travel, or any other activities or scheduling demands can benefit from microblading their eyebrows to maintain their desired look on a semi-permanent basis. Any client wishing not to do their eyebrows every morning can save significant time out of their daily routine with the help of this procedure.

The nature of the procedure also means their eyebrow aesthetic is immune to sweat making it an excellent option for athletic clients or those prone to excessive sweating. Rain or bad weather won't prevent a client's eyebrows from looking their best. Any individual who wants peace of mind concerning the aesthetic appearance of their brows in any place, situation, or climate can see the benefits of microblading.
Why should you get microblading?

Whether you have naturally full brows or thin, sparse ones, microblading can help you achieve your aesthetic goals. A microblading procedure can enhance an existing brow. However, the results are particularly significant for those with thin eyebrows. In the case of people who suffer from hair loss conditions such as alopecia, the results can be life changing. Any client who wishes to avoid the day-to-day maintenance of their eyebrows and not worry about any external factors creating unwanted aesthetics can benefit from the procedure. Clients can schedule a free consultation with Jaudon Sunde to discover the benefits of fuller, well-shaped, balanced, and maintenance-free brows. Once you learn the benefits of microblading, you will be sold on the spot. To consult our professionals, call us or request an appointment online. We are located at 18820 E. Bagley Rd.#1 Middleburg Heights, OH 44130. We serve clients from Cleveland OH, Middleburg Heights OH, Strongsville OH, Parma OH, Lakewood OH, Brooklyn OH, Akron OH, Sandusky OH, Mansfield OH, and Maple Heights OH.