Microblading Specialist for Alopecia Areata Q&A
If you have been diagnosed with alopecia or have signs of alopecia and you are looking to naturally add back definition to the areas affected to make it look like you have natural hair strokes. Signs of alopecia include hair loss in oval patches from scalp and from other parts of body. Consult with Jaudon Sunde at our permanent makeup clinic.

Jaudon Sunde (C.P.C.T. – L.M.T. – P.L.)

, has 25 years of extensive experience in permanent makeup industry. Jaudon is certified as a Master Technician by the 

American Institute of Intradermal Cosmetics in Arlington

.

Contact

Jaudon Sunde Permanent Cosmetics today or request an 

appointment online

. We are located at

18820 E. Bagley Rd.#1 Middleburg Heights, OH 44130

.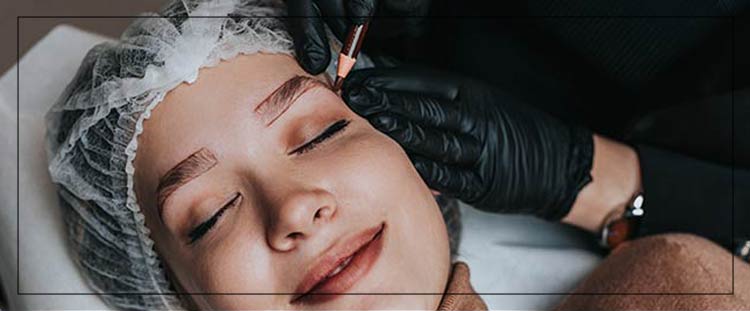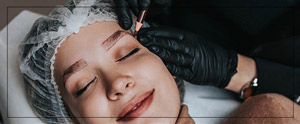 Table of Contents:
Can microblading help alopecia related hair loss?
Can eyebrows grow back after alopecia?
Can a bald spot be microbladed?
Can a hairline be microbladed?
Can microblading help alopecia related hair loss?

Microblading helps to create the appearance of fuller hair on your eyebrows, eyelashes, or other aspects of your face, and head. Microblading does not replicate adding hair follicles to the areas of hair loss on your body but can offer to make it look like the hair is there.

Microblading to help with alopecia can be helpful during your difficult and stressful time and will often restore your self-esteem and self-confidence that may have become lost when you were first diagnosed with alopecia.
Can eyebrows grow back after alopecia?

This question is tricky, as it depends on the cause of your eyebrow hairs thinning if your eyebrow hairs will grow back or not. This question would be best to ask your primary care provider or family doctor that initially diagnosed you with alopecia and knows your medical record better and has a better idea of how your alopecia came to be in the first place.

Each individual case of alopecia is different, some may never have their eyebrow hairs grow back again, that is why microblading for your eyebrows and eyelashes are so important to offer here at Jaudon Sunde Permanent Cosmetics. While others will have their hairs grow back fully, or partially. Even then, microblading helps to make them look fuller and more defined.
Can a bald spot be microbladed?

Hair loss anywhere on the body that can be seen by the public is a common issue, no matter the severity of it, it can become discouraging.

Microblading offers a solution that fits many, as it realistically replicates the hair strands on your scalp and eyebrows, helping to conceal any areas where the hair may have thinned or become completely bald.

While microblading can be done on bald spots, microblading works better to thinning hairlines or eyebrows because the hair strokes from the microblading treatment help to create natural-looking strokes and blend in with your existing hair strands, creating a thicker more natural, and in-depth appearance.

However, we are able to still help bald spots, but due to the area being completely bald, it will not look as natural as it would if you had some hair in the area to help blend.

Following your microblading treatment, there is no downtime; however, expect to experience some peeling before you can see the absolute beauty of the natural hair strokes that were created for you on your scalp and eyebrows.

Keep in mind, microblading is not a permanent solution, you will need touch-ups throughout the years, as factors like sun exposure, swimming, and blow-drying can all cause the pigment that was added to your body which will begin to fade.

Talk to Jaudon Sunde about when a good time would be for your touch-up treatment, as each individual will be based on a case-by-case basis and you may be able to go for longer periods between touch-ups than others.
Can a hairline be microbladed?

Microblading on the scalp can help to improve the look of your hairline by adding strokes at the crown or temples to offer the appearance of thicker and more in-depth appearance.

The goal of microblading is to artfully blend the pigments from the semi-permanent treatment lines with your existing hair to offer a more natural-looking appearance.

When deciding if microblading would be beneficial to you, consider the benefits microblading offers:

• Pigment match to your natural color and skin tone
• Results will fade gradually over the few weeks following your appointment
• Pain is manageable, especially since a numbing agent is applied beforehand
• Results can last up to 18 months with touch-ups; however, this will vary from patient to patient depending of their lifestyle

If you are considering microblading for your alopecia, contact Jaudon Sunde Permanent Cosmetics in Middleburg Heights today! We can book you in for a consultation appointment, and answer any questions you may have in regards to this treatment. We are open by appointment only Tuesday to Saturday from 10:00 AM to 5:00 PM and are located conveniently at 18820 E. Bagley Rd.#1 Middleburg Heights, Ohio 44130. We serve clients from Cleveland OH, Middleburg Heights OH, Strongsville OH, Parma OH, Lakewood OH, Brooklyn OH, and Maple Heights OH.