Permanent Makeup Artist in Middleburg Heights Cleveland, OH
Jaudon Sunde provides beautiful permanent makeup solutions with our permanent makeup techniques, products, and tools. If you are looking into permanent makeup, contact our experienced permanent makeup artists today. For more information,

contact us

or request an

appointment online

. We are located at

18820 E. Bagley Rd.#1 Middleburg Heights, OH 44130

.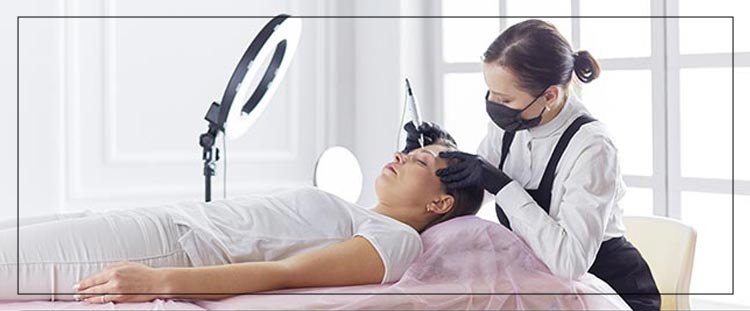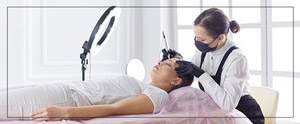 Table of Contents:
What is a permanent makeup artist?
What services do permanent makeup artists provide?
How do I choose a permanent makeup artist?
What is a permanent makeup artist?

Permanent makeup artists apply permanent cosmetic products to their client's skin. The types of services that can be applied via permanent makeup is microblading which is done on the brows, classic permanent eyeliner, classic permanent brows, permanent full lip color, permanent blended lip liner, scar camouflage, areola pigmentation, alopecia, stretch mark camouflage, full face permanent makeup.

Permanent makeup artists will discuss all of the risks and aftercare of each treatment they will apply to their patients. Makeup has been used for decades to help enhance the natural beauty of our faces, with permanent makeup artistry, we are able to enhance this natural beauty on our faces and body for much longer. The pigments used in permanent makeup are deposited into the skin resulting in semi-permanent makeup, this means the results often will last between 2 to 10 years after the initial procedure and will need maintenance appointments booked to maintain the results.
What services do permanent makeup artists provide?

A few of the services that Jaudon Sunde provides for permanent makeup includes the following:

• Microblading – Microblading is an eyebrow permanent makeup service that is done using a handheld tool that was created specifically to deposit pigment into the eyebrows. Natural hair strokes are created with this tool to provide more natural, fuller, and correctly shaped eyebrows.
• Classic Permanent Eyebrows – Classic permanent eyebrows are an anti-aging powerful change for women who often choose this procedure as they do not want to undergo surgery. This is due to the fact this treatment can change the look of the entire face by balancing it out with creating subtle, natural, and balanced eyebrows that frame the face.
• Classic Permanent Eyeliner – Classic permanent eyeliner provides a wonderfully classic look to your eyes, providing semi-permanent eyeliner which will need to be touched up every 12 to 18 months.
• Permanent Full Lip Color – Have you ever seen women look like they may have a beautiful naturally subtle lip color to their lips, even though they have eaten, sipped drinks, and talked the day away without re-applying anything? That is because they have permanent full lip color.
• Permanent Blended Lip Liner – Natural permanent blended lip liner will define the lips, provide more symmetry and a subtle pigmented look.
• Scar Camouflage – scar camouflage is a micro pigmented technique that is used to cover up any appearance of a scar on the body and face/head.
• Areola Pigmentation – Areola pigmentation is a reconstructive process that allows the breast to have the look of a natural areola once more. If you have pale areolas, have gone through breast cancer, or want to reduce the appearance of scars, this treatment may be right for you.
• Alopecia – Alopecia occurs in many individuals causing baldness that can be triggered by several events. Our microblading technique will mimic natural hair strokes to showcase the appearance of natural hairs hiding any signs of alopecia.
• Stretch Mark Camouflage – Uses cosmetic reconstructive techniques like scar camouflage to camouflage stretch marks found on the body.
• Full Face Permanent Makeup – Full face permanent makeup uses several permanent makeup techniques on different areas of the face for a full-face look from brows, permanent lip liner, permanent lip color, microblading, etc.
How do I choose a permanent makeup artist?

To choose a permanent makeup artist that will best fit your needs, you will want to ensure they are completely certified and have photos to showcase their consistent work of excellence. Find a permanent makeup artist near you by using a search engine to showcase all of the nearest permanent makeup artists in the area and review their qualifications, cost, and photos on their website. To keep it easier, you can put your trust in Jaudon Sunde, a Permanent Makeup specialist with a C.P.C.T. / L.M.T / P.L. Call us or request an appointment online with our permanent makeup specialist, or visit our clinic conveniently located at 18820 E. Bagley Rd.#1 Middleburg Heights, OH 44130. We serve clients from Cleveland OH, Middleburg Heights OH, Strongsville OH, Parma OH, Lakewood OH, Brooklyn OH, and Maple Heights OH.