Semi-Permanent Makeup in Middleburg Heights Cleveland, OH
If applying makeup is a necessary but tedious chore for you, semi permanent makeup could be the answer to that problem. Get semi-permanent makeup in Cleveland, OH from

Jaudon Sunde-C.P.C.T

. Jaudon has over 25 years of experience in beauty industry with top-notch skills in permanent makeup. Permanent and semi permanent is available at Jaudon Sunde Permanent Cosmetics clinic.

Contact us

or book an

appointment online

. We are located at

18820 E. Bagley Rd.#1 Middleburg Heights, OH 44130

.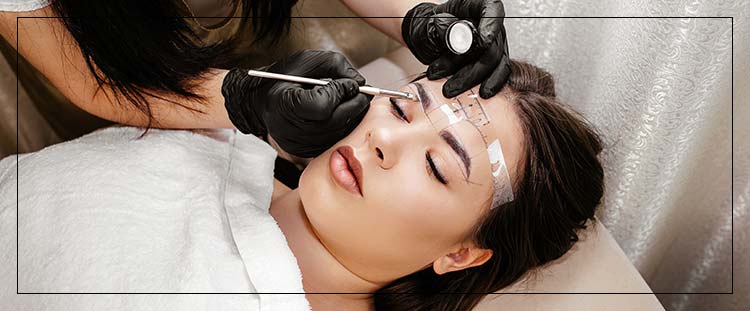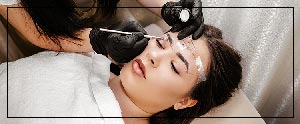 Table of Contents:
What is semi-permanent makeup?
What kind of semi-permanent makeup procedures are there?
How long does semi-permanent makeup last?
Can semi-permanent makeup help people with medical conditions?
What is semi-permanent makeup?

Semipermanent makeup is a cosmetic treatment that enhances your facial features in a semi-permanent manner. With this cosmetic treatment, aestheticians inject pigment into the skin to recreate your favorite makeup visage. Thus, the main benefit of semi-permanent makeup is that it allows you to have flawless makeup all the time without having to do the tedious and time-consuming work of applying it every morning or evening.

Semipermanent makeup works in a similar fashion to regular tattoos. An aesthetician uses an ultra-thin needle to deposit hypoallergenic pigment into the dermal layer of your skin in the treatment area. Before doing so, they inject a numbing agent into the skin so you don't feel any pain during treatment. That said, it is common to feel a buzzing or tickling sensation as the aesthetician passes the needle over your skin.
What kind of semi-permanent makeup procedures are there? 

The most common areas that people apply semi-permanent makeup to our brows, eyelids, and lips. However, semi-permanent makeup can also be used for procedures like scar camouflage, areola repigmentation, stretch mark camouflage, and others.

For the brows, the most common semipermanent makeup procedure is microblading. With this treatment, an aesthetician makes short, fine strokes with the tattooing device to resemble eyebrow hairs. There are various techniques for microblading, so you can choose from numerous eyebrow styles with treatment. Microblading can provide you with more defined brows, stylized brows, and more.

Semipermanent makeup for the eyelids involves either permanent eyeliner or lash enhancement lines. Permanent eyeliner provides a bolder look, while lash enhancement lines are more subtle with thinner lines between each lash. Both of these treatments enhance the natural beauty and shape of your eyes.

With semi-permanent makeup for the lips, you can add color and definition to your lips. Since pigmentation loss in the lips is common with age, permanent lip makeup allows you to restore that lost pigment and maintain your exquisite lips.
How long does semi-permanent makeup last?

For most people, semi-permanent makeup lasts at least one to two years. However, some patients find that their semipermanent makeup lasts as long as five years. While the pigment with semipermanent makeup remains in the skin, it fades over time. After it fades, most people need a touch-up appointment to restore the pigment to its original vibrance.
Can semi-permanent makeup help people with medical conditions?

An unexpected benefit of semipermanent makeup is that it can help people maintain their makeup routine who deal with various medical conditions. Some of these medical conditions include:

• Alopecia and hair loss: Semipermanent makeup can help with alopecia and other hair loss conditions by creating the illusion of hair in areas where you've lost hair.
• Chemotherapy: As hair loss is common during chemotherapy, semipermanent makeup can also help with this symptom in the same that it helps with alopecia and other hair loss conditions.
• Overactive thyroid: Thinning or patchy hair is a symptom of an overactive thyroid, also known as hyperthyroidism. Semipermanent makeup can help minimize the appearance of hair loss caused by an overactive thyroid.
• Scars: If you have scars on your body that haven't faded with time, semi-permanent makeup is an effective way to camouflage them with the rest of your skin.
Skin conditions: If you have skin conditions that react negatively to different cosmetic products, you may be eligible for semi-permanent makeup. If you're eligible, semipermanent makeup can help you by eliminating your need for different cosmetic products.
• Vitiligo: Vitiligo involves patches of skin that lack pigmentation, resulting in pale areas of skin that are lighter than your skin's natural color. Semi-permanent make-up can camouflage these areas with a pigment that blends them in with the rest of your skin.
• Physical limitations: Many conditions like multiple sclerosis or Parkinson's disease may lead to physical challenges when applying makeup. Semipermanent makeup can help by giving you makeup that lasts day after day as opposed to makeup that requires you to apply it day after day.

Semipermanent makeup can solve many problems you may encounter with your makeup routine. For more information about semipermanent makeup or an appointment with us at Jaudon Sunde Permanent Makeup, schedule your consultation on our website or call us today! Call us or request an appointment online. We are located at 18820 E. Bagley Rd.#1 Middleburg Heights, OH 44130. We serve clients from Cleveland OH, Middleburg Heights OH, Strongsville OH, Parma OH, Lakewood OH, Brooklyn OH, Akron OH, Sandusky OH, Mansfield OH, and Maple Heights OH.